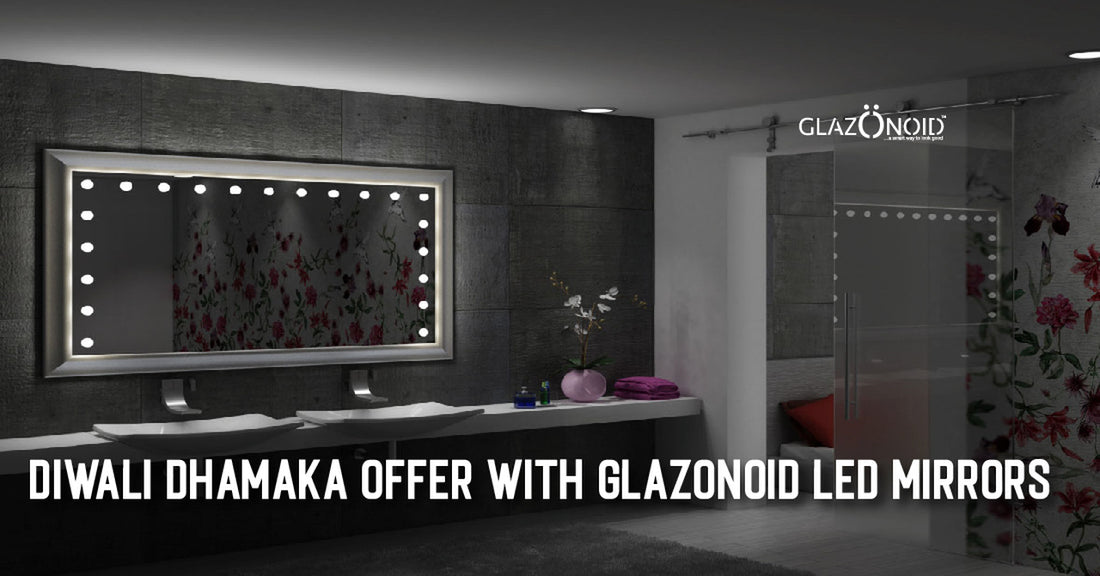 Diwali Dhamaka Offer with Glazonoid LED Mirrors
Diwali, the festival of lights, is a time of joy, celebration, and, of course, home decoration. It's that special occasion when we strive to make our homes shine as brightly as the lamps and candles that light up the night.
One way to add a touch of contemporary elegance to your Diwali decor is by incorporating Glazonoid LED mirrors. In this article, we'll explore the allure of LED mirrors, and introduce you to an exclusive Diwali Dhamaka Offer that promises to transform your living space into a radiant and enchanting haven.
Mirrors for Diwali: An Illuminating Choice
The Magic of LED Mirrors
Glazonoid LED mirrors are not your ordinary mirrors. They're designed to serve both functional and aesthetic purposes. The term "LED" stands for Light Emitting Diodes, which are cleverly integrated behind the mirror's surface. When illuminated, they create a soft and ambient glow, adding a touch of modern sophistication to your Diwali decorations. These mirrors are a captivating fusion of technology and design.
LED Mirrors and Diwali
In Indian culture, mirrors have long held a special place in home decor. They are considered to bring positive energy into the household and symbolize introspection and personal growth. During Diwali, mirrors take on even greater significance as they are believed to amplify the festival's aura of positivity and prosperity.
The Glazonoid Diwali Dhamaka Offer
This Diwali, Glazonoid is thrilled to introduce a Dhamaka Offer that combines the charm of LED mirrors with irresistible deals. We understand the importance of making your home stand out during the festive season. That's why we're offering a range of led mirrors specially designed for Diwali decor, at prices that will brighten your day.
Highlights of Our Offer
Exclusive Diwali Designs: Our LED mirrors come in a variety of enchanting Diwali-themed designs. From traditional motifs to contemporary patterns, we have mirrors that will complement any decor style.
Limited-Time Discounts: To make your Diwali even more special, we are offering exclusive discounts on our Diwali collection. You can now bring home the magic of LED mirrors at unbeatable prices.
Customization Options: We understand that every home is unique. That's why we offer customization options, allowing you to choose the size and shape of your LED mirror to suit your decor.
Fast and Safe Delivery: Worried about getting your Diwali decor in time? Don't be! We offer fast and secure delivery, ensuring your LED mirrors arrive safely and promptly.
Decorating with Glazonoid LED Mirrors
Diwali Foyer
Create a warm and welcoming entrance by placing a Glazonoid LED mirror in your foyer. The soft LED glow will greet your guests with a sense of sophistication and festivity.
Rangoli Reflections
Enhance the beauty of your rangoli with strategically placed LED mirrors. They will reflect the vibrant colors and patterns, creating a visual spectacle that's perfect for Diwali.
Dining Room Opulence
For a lavish Diwali dining experience, consider using LED mirrors as table centerpieces. The reflective surface will add a touch of opulence, making your meals truly memorable.
Mandir Serenity
If you have a prayer room at home, illuminate it with the soft glow of an LED mirror. It will create a serene atmosphere, perfect for prayers and meditation during Diwali.
Living Room Elegance
Transform your living room into a stunning focal point by adorning it with a collection of decorative Glazonoid LED mirrors. The play of light and reflections will infuse your space with Diwali magic.
Glazonoid LED Mirror Designs
Floral Elegance
Our LED mirrors with floral patterns add a touch of natural beauty to your decor. They complement traditional Diwali flower decorations splendidly.
Peacock Pizzazz
Choose LED mirrors featuring graceful peacock motifs. In Indian culture, peacocks are symbols of beauty and grace, making these mirrors an ideal choice for Diwali.
Dazzling Diyas
Opt for LED mirrors adorned with intricate diya (oil lamp) patterns. These mirrors are perfect for celebrating the festival of lights and can serve as beautiful centerpieces during your Diwali celebrations.
Decorating Tips for Glazonoid LED Mirrors
To maximize the reflective effect, place LED mirrors strategically.

Consider using dimmer switches to adjust the LED lighting to match the mood and ambiance of your decor.

Regularly clean your LED mirrors to maintain their shine and sparkle.

Experiment with different sizes and shapes of LED mirrors to create a unique and personalized decor for Diwali.
Conclusion
In conclusion, Glazonoid led mirrors design are the perfect choice to elevate your Diwali decor in 2023. Their blend of modernity and traditional significance, coupled with the enchanting LED illumination, will add a touch of magic to your Diwali celebrations. With the Diwali Dhamaka Offer, you can now make your home shine even brighter during this festive season.
You May Also Like: Creating Diwali Stunning With Glazonoid Decorative Wall Mirrors